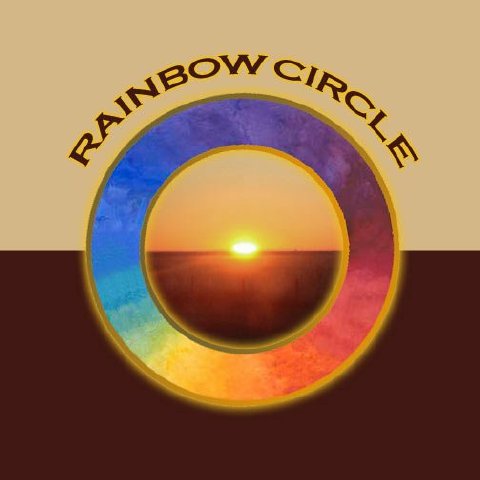 Rainbow Circle AGM 25 + 26th October 2008 at Hatfield Court, near Leominster
Saturday 25th October 2008
Session 1
1pm Opening Circle led by Annie
1.20pm. Apologies for absence from: Kevin, Debora Hill, Clive Dragon, Dan Pounds, Juliette, Joseph Malloy, Chris & Helen, Ben, Glynn, Cliff.
1. Annie chairing
2. Kestrel minuting
Present: Annie, Dawn, Sara, Maggie, Larry, Crissy, George, William, Kestrel, Weasel, M'Shel, Louise, Gretel, Kiddie Jim, Dave the Tofu, Martin, Alan Welsh, Lisa Butterfly, Dave the Musician, Viv.
3 kids – Raven, Jay & Chris, Kim,
1 dog – Ricki, Phoebe
3. William facilitating a group process.
Name round
Talking stick round
Selecting an issue to focus on – using a new process outlined by William.
It was agreed by concensus to talk about camps ahead of land fund.
William expained format of moving around in support of various viewpoints.
Various points made about camps and in particular the desirability of magik
hat camps.
Larry offered to help coordinate a camp.
Session closed 2.25pm.

Session 2: 3pm start
1. Chairing: William
2. Minutes: Kestrel
3. Reports of:
i. Secretary -Gretel
Annie has been wonderful support
ii. Treasurer -Kestrel
iii. Vehicles -George
iv. Tat -George
v. Crew -Kestrel.
Key point that one day we might find ourselves without enough crew.
-George unhappy about drinking during crew. Lisa unhappy about individuals being mentioned.
vi. Egroups and web. -George
-Sue spoke about MySpace.
-Debate about web presence. M'shel proposed a facebook presence.
vii. Activity coordinators
-Stocktake -Kestrel
-Sunrise fundraiser -George
-Sunrise at Big Chill fundraiser -Kestrel
-Northern Green Gathering fundraiser -Annie
Small profits were made at these events, and free tickets were received. Our garden and ceremony-making were appreciated.
viii. Camp coordinators -Celebration of Spirit Camp 15-31 August Derbyshire
Coordinators report jointly written by Annie, Kestrel and Weasel, the three coordinators of the camp. Read by Weasel.
4. Election of officers
-Secretary Annie. Unanimous. For 14
-Treasurer Kestrel. Unanimous. For 14
-Finance Group Kestrel, Sue, Toni. Unanimous. For 14
-Secretarial Group Annie, Gretel, William, Lisa. Consensus deemed by Chair.
5. Appointments to other positions (excluding coordinators, Council and WWG).
Tat circle: Possible Proposal: No tat circle, WWG are responsible. For 10 Ag 1 Ab 4
Vehicle coordinator: George For 13 Ag 2 Ab 1
Egroup and webgroup owners: Weasel For 14 Ag 0 Ab 0 .
Defer decision to tomorrow about rest of webgroup circle. For 8 Ab 4
Session closed 5.40pm.

Sunday 26th October 2008
Session 3: started at 12.00pm.
We began with a song and a poem by Homer; we then Ommm'd.
1. Chaired by William
2. Minutes taken by Helen.
Apologies for absence from Andrew & Claire.
Present: Red Sara, George, Lorraine, Larry, Viv, Gretel, Annie, Alan, Stevie G, Jilly, Sara Jane, Crissy, Maggie, M'shel, William, Dawn, Dave, Toni, Jim, Nigel, Sue Weasel, Martin, Kestrel.
- Jilly reads salient bits of last year's AGM minutes.
Vote to pass the minutes, agree that they where an accurate representation of last years AGM.
For 12 Ag 0 Ab 5
Lisa collected attendee / members' contact details (during the day).
3. Discussion of Rainbow Circle's activities
- Jilly proposed that we talk about the infrastructure of Rainbow Circle,
particularly about the power of the Council not being fully utilized.
Talking Stick discussion to agree our focus:
- Helen said subject wasn't listed on the AGM agenda. Can't hijack the
agenda.
- R/Sara proposed that we could choose co-ordinators who weren't at the AGM.
- Helen said co-ordinators should have attended camps for 2-3 years before co-ordinating anything for us.
- M'shell proposed a camp at Flaxley for old time's sake.
- R/Sara proposed that we discuss the times/calendar of next year. Are we going round in circles or spirals?
Chair accepts consensus and directs meeting to discuss next year's activities, as per agenda. Discussion of structural issues raised by Jill and others is thereby deferred.
- Dawn has volunteered to do some kidz co-ordinating. She wants support.
- Kestrel says he is thinking about co-ordinating a camp.
- M'shel has offered to facilitate ( not co-ordinate) things at camps.
- R/Sara proposed a talking stick round to pool ideas.
Talking Stick Round:
- Annie says she would like to see a Beltane camp at Bob and Mary's.
- Viv says last years camp was great. Good atmosphere etc. It would be nice to have a camp somewhere else.
- Larry, keep camps small and effective.
- George, speak of us going to Sunrise & BGG with Rainbow circle. Urges us to consider what we are doing for next summer camps.
- R/Sara, Rainbow Circle takes me away from ordinary life and it's good.
- Weasel would like a long, varied summer camp. Fund raising at other camps is important, but we must hold our own camps.
- Helen regrets she is unable to offer help because of her work.
- Toni offers help at Beltane, likes the idea of a Kidz camp. Flaxley?
- Martin asks about the state of the catering truck; George replies.
- Dawn wants to coordinate a healing circle. She says we need to make Rainbow Circle attractive for younger people – she would like to help.
- Maggie says she would like to see a camp at Headcorn in Kent as a venue (Beltane?).
- Kestrel says August camp was too long (17days). WWG will take on all our ideas.
- M'shel supports Beltane idea; don't get caught up in the romantic idea of Rainbow. Be practical.
- Sarah has ideas for facilitating on camp. She says longer camps require less work with tat. Outings into other events promote us, but we should be paid for this.
- Chrissy speaks for keeping camps in the same place.
Session closed at 1.05 pm for a lovely lunch.

Session 4: started at 2.30pm.
Present: Red Sara, George, Lorraine, Larry, Viv, Gretel, Annie, Alan, Stevie G, Jilly, Sara Jane, Crissy, Maggie, M'shel, William, Dawn, Dave, Toni, Jim, Nigel, Kestrel, Sue Weasel, Martin, Jon, Brian Visiondance, Sara Circles, Kith.
1. Chaired by Helen.
2. Annie takes minutes.
3. Council voting: We distribute slips as the Circle continues.
- Helen & M'shel request NOT to be on the Council.
4. Proposals received
1st Motion to be considered is Kestrel's and Toni's. It is divided into four separate parts to be voted on, these are:
a) People will receive no expenses for attending & journeying to and from WWG meetings with the exception of the designated host.
b) Each WWG meeting will have one designated host.
c) The designated host will be refunded by Rainbow Circle for cost incurred up to a maximum of £40.
d) Majik hat collections at WWG meetings are the property of Rainbow Circle..
- George proposes we leave it to the WWG.
- Kestrel, says that the proposal is a general principle that will have exceptions.
It is a guideline only…
Lively discussion ensues.
Helen proposes we vote:
Section a) For 15 Ab 4
Section b) For 14 Ag 1 Ab 2.
Section c) For 12 Ag 2 Ab 2.
When we get to a vote on (d) we stall…
- Viv says £40 is not enough. We should reconsider proposal (d)
- Kestrel says that the host is not obliged to pay for WWG. People coming should expect to bring food etc.
- Gretel suggest Host supply receipts for goods bought on behalf of WWG.
- George objects to proposal (d) because it constrains WWG
- Helen suggests a sum of money per person attending because it has more flexibility than a fixed sum of money.
- £5 per head is mentioned.
- R/Sara proposes change the wording to 'expenses within reason'.
- M'shel says that the costs of travelling for WWG must be considered. The host does not have this cost to contend with.
- Kestrel says he supports Helens 'per person' suggestion.
- Helen suggests we vote on the amendment.
- Dawn suggests we limit the numbers attending WWG venues.
We vote for amending the proposal to 'reasonable amount' for reimbursement. (proposed by R/Sara, seconded by George)
The 'reasonable amount' amendment is carried: For 12 Ag 3 Ab 1
Section (d) is withdrawn.
The next proposal on the Agenda, George and Annie's, requests the WWG do something to improve our Rainbow Circle toilets. This proposal is withdrawn due to time considerations.
Next, we consider Dawn & Viv's proposal that states that at any R/C camp one of the three co-ordinators be required to be responsible for the kidz area ....
- R/Sara, thinks it's a good idea but not necessarily needing one of the co-ordinators to be responsible. Suggests amending it to a 4th 'additional co-ordinator '.
- Kestrel says that no one wants to be kidz co-ordinator. They are hard to find. It's too restricting.
- Gretel, says Kidz area should have mothers of said kids organizing the area.
- Lisa wants parents to be responsible
- M'shel says we should state the roles required and what is needed to fill them.
- R/Sara, agrees that naming roles required would help matters.
- Helen says children need rhythm and routine. She says it's too much responsibility for 1 person.
- George, suggests problems on this proposal be referred to the WWG.
Helen proposes we vote. The result is: For 5 Ag 7 Ab 1.
Dawn's amended version is not carried.
Helen proposes this should be referred to Council & WWG for continued discussions. We vote:
For 9 Ag 3 Ab 1.
4:30pm. We take a 'Sunset by the blazing fire' break.
At this time the elected council are named. They are as follows:
Andrew, Claire, George, Jon , Kestrel, Larry, Sara Jane, Martin, Red Sara, Toni, Viv, William, Sue Weasel, Kith, Gretel, Dawn, Annie, Jim, Maggie, Sara Circles.

Session 5: reconvened at 5 pm.
The next item on the agenda for discussion is Kestrels & Annie's proposal:
That the WWG be able to make decisions on the WWG e-group as long as there is a majority agreement.
Jon chairs the meeting…
- Helen speaks against it. Feels it is loss of personal connection.
- Kestrel states that only an unanimous vote would be acceptable. He points out that because of this, nothing controversial could get through. It would take only one objection and we would all be obliged to meet and talk about it.
- Sara suggests a trial period.
- Helen says she feels Rainbow Circle is a process, and the internet does not honour that process. She feels the power of the internet would diminish what we are.
- David suggests we amend it and go for a trial period.
Jon suggests we do straw pole. The result is: For 8 Ag 3 Ab 6.
Jon suggest a trial period & that the email header must state 'requires vote'.
- Helen says that Rainbow Circle is not a computer, and our purpose is to meet.
Jon suggests we vote on a 'trial period' amendment. The vote is:
For 11 Ag 6 Ab 2. It is a hung vote.
Jon suggest we add, 'not to be used in such a way as to replace meetings', and we vote again. The result is: For 11 Ag 5 Ab 4.
Again it is a hung vote. Jon suggests we refer it to the WWG…
Helen returns to the chair.
Volunteers for Winter Working Group 2009:
Jon, Red Sara, Gretel, Viv, Larry, Crissy, Helen, Sue, Kestrel, Lisa, M'shel, Dawn, Ben, Annie, Kith, Welsh Alan, Jim, Toni, Sara Jane, George.
Next meeting of the WWG is 28th & 29th November at M'shel's home in London.
Any Other Business
a) We first discuss the 'Land fund'.
- M'shel polls interest in subject of Land Fund. We want to discuss this issue.
- Kestrel says Dave Baker and M'shel are the only signatories on the account that is currently held at the Abbey National. He tells us the land fund was formed with the express purpose of buying land. For various reasons, Rainbow Circle owes the land fund £2,638 and there is £2,649 remaining in the account.
- Jon proposes we mandate the WWG to discuss this issue and report back at the next AGM.
R/Sara reads her list of other business deferred earlier in the meeting (b to f):
b) The Shop.
- R/Sara speaks of the camp shop, (know as the 'Shlop'), and asks if it is at all possible to get our missing Tea Urn back.
- Kestrel says he will investigate and report on this issue at the WWG
c) The PO box doesn't work.
d) Various thefts
- George feels concern about the solar panel missing.
e) Personal issues erupting at meetings – how to cope with them.
- Red Sara is concerned to exclude personal naming of people at meetings to take out the contentiousness.
f) Growth and aims of Rainbow Circle
- Jon says perhaps we should have a 'Visions Camp' again and a WWG debrief after camps.
g) Advertising to recruit
- R/Sara suggests we advertise certain jobs that need doing to the wider circle.
- M'shel agrees. Holding energy for specific areas and allocating job shifts would be good. She reckons there are about 35 (4hr) shifts required in a Rainbow Circle day.
- R/Sara says theft is an issue.
- Kestrel suggests we refer this issue to the WWG for further consideration.
Jon suggests the elected council have an initial meeting after the AGM closes.
h) Cheesy's proposed camp at a venue at Hay on Wye, on Easter Bank Holiday. Fri, Sat & Sunday.
Up to 200 people, toilets and showers on site. Workshop leaders would be paid expenses.
There is a pub on site and a place that sells food. It could be a Rainbow Circle gig but it would be up to us to make the Majic Hat work.
- Kestrel asks what provisions for children are there at this site.
- Cheesy says there is a river and canoeing and stuff.
- Kestrel, Lisa say paying expenses is not possible, by tradition.
- Jon states most strongly that he doesn't want a Rainbow Circle event with a pub in it. But it could be a fundraiser.
Others objected to availability of alcohol.
- M'shel says that historically, although we love doing benefit gigs, they don't make us money. They don't work for us. Viv asked how it would benefit us.
- Gretel says it's not suitable for Rainbow Circle because it's too far away and who's going to pay for transporting our Tat?
- Brian Vision dance says a benefit gig would attract younger people.
- R/Sara asks if there is a communal kitchen available.
- Jon suggest we let the WWG decide.
- Helen says she is not happy about a Rainbow event being near a pub.
- Stevie G doesn't think it's a good idea either, and George agrees with him.
- Dawn says it goes against our Rainbow ethos.
Dawn requests a vote on the proposal. It is defeated:-
Helen (chair) takes a straw poll on a proposal for the WWG to discuss possibility as a benefit gig. Result is: For 14 Ag 1 Ab 1.
– carried.
Session closed 7pm with a song and an Ommm.