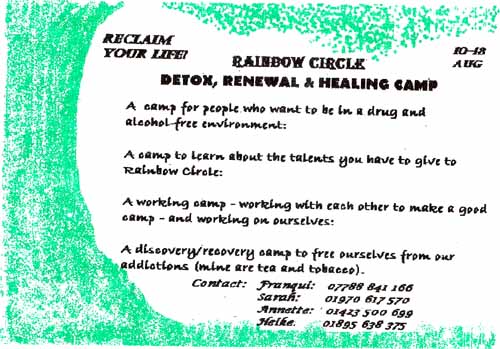 Rainbow Circle Detox,Renewal and Healing Camp
10-18 August 2002
Reclaim your life!
A camp for people who want to be in a drug and alcohol-free environment:
A camp to learn about the talents you have to give to Rainbow Circle:
A working camp - working with each other to make a good camp - and working on ourselves
A discovery/recovery camp to free ourselves from our addictions (mine are tea and tobacco)

After the exhilaration and pitfalls of our first season of Magic Hat Camps,
we bravely continue with our Rainbow Circle Adventure.




Energy and love and money,         Make our magic village work,
Bring life's essentials -funny,          How helping you'll not shirk
Somewhere to live, a place to sleep,         Eating tools, all-weather clothes,
Safe water in containers keep,        And you'll survive with all of those.
Share time and space in any weather,         Come early, help to set up camp,
Give what you can to eat together.         Oh, I forgot, please bring a lamp.
If you've got time to stay on longer,         For to take the camp apart,
It helps if you're one of the stronger,        And we will take you to our heart.
No-one earns money for their work,        All's freely given to the Hat,
But giving has its own sweet perk,        Riches of love, now think of that!
Controlled dogs are welcome,        leave £10 at the gate,
Clean up behind them straight away         - don't be late.
Market comes on Saturday,         To buy and for to sell,
We've found it is the best way,         free from commercial hell.
Please honour the musician,         Loud music not at night.
And please respect the children,         And do not cause them fright.
Take part do, in some workshops,         maybe learn something new,
To teach us too would be tops,        Its all up to you.
The kids have some good spaces,         Where they can do their thing.
The workers all kind faces,         So think what can you bring?
With lots of love and respect,         There's a lot you can do.
Rainbow family will expect,         To return it to you.
Chemicals are a no-no,         Organic we will be,
Canned music is a no-go,         Do not abuse you see.
To keep the camps going,        In safety and in health,
Love the earth, be aware,         Of what is really wealth.
Leave the city behind you,        And with us you will find,
Rainbow Magic holds you too,        Our spirit, one kind.


Touch the Tipi to go home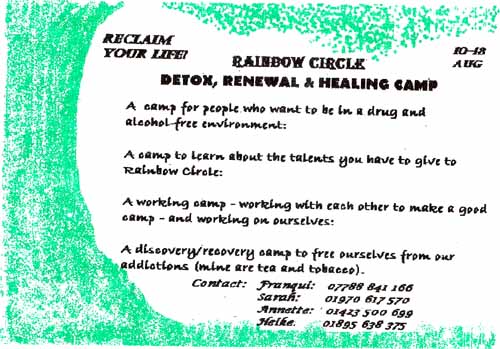 http://groups.yahoo.com/group/rainbow-circle

www.rainbowcircle.co.uk